---
Kyoto Traditional Textile Weaving Experience
Since ancient times, Nishiki-ori, Kyoto silk brocades are woven with gold, silver, and multi-colored threads, have been valued for their luxurious appearance. KOHO Nishiki Textile Studio undertakes the restoration of precious ancient textiles and conducts a thorough research about the traditional weaving techniques, from the silk cocoons processing to the tools and weaving equipment. Nishiki textiles are created through the combined skills of numerous craftsmen, involving not less than 70 various processes. The works of the textile artist Koho Tatsumura are characterized by a stunning luminous three-dimensional effect and are called "The Weaving of Light" overseas.
At this activity, we use the silk as the material. Weave a single colored twill piece..Here is the chance for you to hands-on your piece and take it home with you as a memorial trip or an only one souvenir. Get out the crowd and experience Kyoto artisan once in life.
Schedule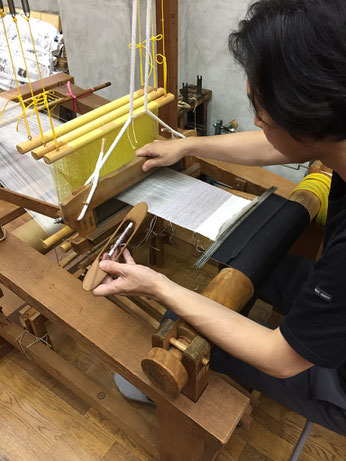 Please choose the time
10:00 AM 1-2 people
13:30 PM 1-2 People
15:30 PM 1-2 People
Per Traveler Price is  ¥5,500
Activity Location
25 Shichiku Shimonokishicho, Kita, Kyoto, Kyoto Prefecture 603-8107
Highlights
Chance to hands-on the unique Japanese traditional textile.
You can take your piece to home as souvenir.
You can choose the material color as you like.
Commentary in English.
Present you for your postcard photo.
---
Inclusions
Silk Material
Commentary in English
Bring the piece home with you.
Entrance fee and activity fee
---
Exclusions
Food and drink
The selling product inside the shop
Transportation fee
---
Know Before You Book
1 person will take 1 hour for this activity.
2 people will take 2 hours for the activity, and take turns.
You will be asked to take the shoes off for entrance to weaving area.
Please contact supplier for picking up additional service by taxi from your hotel.
Children under 7 years old may not participate in this activity.
---