Private Japanese Small Katana Forging Experience
In the relaxed surroundings of the suburbs, receive guidance from Yuya Nakanishi, a certified professional swordsmith, the only one in Kyoto and of which there are only 300 in the whole country,and make a knife for your everyday use.
By repeatedly heating and hammering the metal, the structure of the metal becomes tighter, forging the resilience Japanese katanas are known for.
There is a plan for making a short sword of the same Tamahagane steel as katanas, and you will no doubt be satisfied with the beauty of the finished product.
For those with enough time, we recommend the 4-8 hour course for making a Japanese knife.
Highlights
1.Creation of a small knife under the watchful eye of a master
2.Usage of the same process & materials as a traditional sword
3.Visit to only remaining sword forge & swordsmith in Kyoto
4.Perfect souvenir to take home, made with your own hands
5. Special wooden box to take home & to display your handiwork
Making plan
Plan A
1 Traveler 18,000 yen / duration 4 hours
Material : iron ( duration 4 hours) 
Option 15,000 yen for English or French interpreter
Please choose starting time between 9:00 or 13:00
Plan B
1 Traveler 39,000 yen / duration 4 hours
Material : Tamahagane steel
The same as Japanese swords
Option 15,000 yen for English or French interpreter
Please choose starting time between 9:00 or 13:00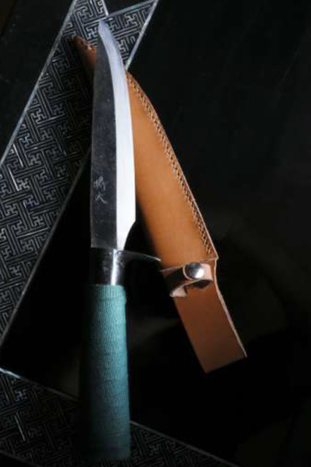 Plan C
1 Traveler 59,000 yen / duration 8 hours
* must be minimum 2 people
Material : Iron with Japanese leather handmade
Plan C Material half plan
1 Traveler 49,000 yen / duration 8 hours
Material : Iron with Japanese leather handmade
Start from 13:00 finish around 17:30 
Additional Option
Taxi from JR.Kameoka station to forge sword 5,200 JPY per one way
Please note
*Although these are private lessons, there may be times where you will be learning with other people, depending on the number of participants.
Activity / Location
Kameoka, Kyoto
Know Before You Book
1:Children 9 and younger are not allowed.Maximum group size is 8 people.
2:For 1–4 people the experience will take approximately 4 hours. For 5–8 people the experience will take approximately 8 hours.
3:Please choose the 9 AM start time if you are a group of more than 5 people.
4:Hotel pickup and drop-off and English-guided options are available for an additional surcharge and can be negotiated with the   supplier after booking.
5:This activity begins at in Kameoka, which is approximately 1 hour away from central Kyoto. Detailed address and map will be
 provided upon confirmation. You must make your own way to the meeting point.
6:Check-in is 10 minutes prior to the booked tour start time.
7:The booking will be confirmed after the advance payment has been paid. After that, the customer will receive a confirmation of
the booking and an invoice for the remaining.
Cancel Policy
You can cancel free of charge until 8 days before your reservation starts. After that time, no cancellations,changes or refunds will be made.
reviews
The instructors were very knowledgeable, patient and polite. The forge is in a lovely area as well. If you are concerned about occupational safety then I'd suggest taking your own safety glasses but otherwise excellent.
Jake B
Australia
**
Was a great experience and the interpreture was a great help. Would recommend everyone do it
A verified traveller
**
A unique way to get a taste of the ancient art of smith crafting and you get away with an equally unique self maid souvenir ! The sensei and all the team received us so well. Definitely an essential for any crafty people and sword culture fan !
Bastien
Peru ** I highly recommend this activity. It's so nice to travel an hour away to see another side of Kyoto. Masahiro was amazing to work with. He's extremely knowledgable and personable and very open to sharing his knowledge and the beautiful scenery where his studio sits. My husband and I came home with a katana each that we created with help from Masahiro. He's a very good and patient teacher. Don't miss this if you're visiting Kyoto.
Jeanette M
United States
** This was the coolest thing we did on our trip. Masahiro helped us out even with our limited Japanese (we know up to JLPT N4/5). If you can get an international driver's license, it is better to get a rental car up to his place in Kameoka rather than take the taxi, as taxi costs are around 12,000 yen roundtrip, whereas we got a car for $5,500 and used it throughout the day for other activities. You'll get an introduction into Japanese sword history and forging early on in Japanese. If you don't know enough, it might be worthwhile to get an English translator, because Masahiro's explanations and insight into the art was quite enlightening (for example, you'll hear how different regions in Japan implemented different hamon patterns on the katanas or how katanas relate to Japanese shinto omamori culture in that they are routinely used as vessels to hold the pantheon of Shinto dieties. Be sure you're physically fit, as you'll be on your knees for long periods of time.
Tu C
United States
** This was a truly unique experience that I would recommend for anyone who enjoys doing something that isn't touristy. Not only do you learn about forging from a true Master, but you get a Katana that will be with you forever. I went with my sons that are in their 20's and it was their favorite activity that we did in Japan.
Amy A
United States
** This was a wonderful activity to do near Kyoto and the highlight of our trip to Japan. You end up with a really cool (and useful) personalised souvenir. The workshop is held in a beautiful area of Kameoka, so just walking around outside was a treat. Swordsmith Yuya Nakanishi guides you through the knife-making process and helps you get the required basic shape. Note though, he does do all the finishing grinding work for you though, so the end product is not entirely all your own work. But for me the most interesting part was getting to create the hamon (temper-line) using clay; you design your own pattern and then heat the blade to give the steel differing hardnesses. I would highly recommend this workshop. The price is very reasonable and we thought it was worth paying a bit extra for the taxi from the station and the interpreter (but there were 3 in our group so that cost was shared).
Alan
Australia