Japanese Rice Snack Arare Making Experience – Dormant –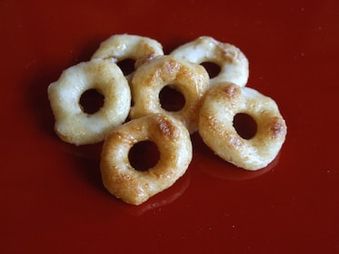 Arare is a popular Japanese snack made from sticky rice and originally flavored with soy sauce. They come in many different shapes, size, colors and flavors.
At this actvity you can enjoy in each crunchy bite of Arare rice cracker flovered with handmade aromatic original soy sauce and get the chance to prepare your own Japanese snacks in a 130 years historic Kyoto traditional house. A truly unforgettable moment awaits you !
During this activity you will:
1. Grill the Arare by yourself using original handmade soy sauce. Usually, the final taste of Arare slightly differs according to the way each person prepares it. So you will be able to take back home your own and unique personalized Arare souvenir.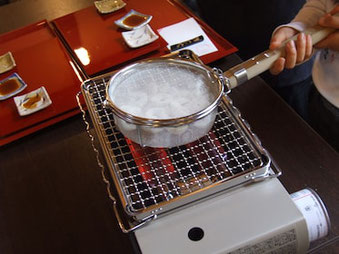 2. Grill the original turtle shaped Arare. In Japan, Turtle is a symbol used for the celebration of longevity such as the 60th anniversary, marriage or even when moving into a new house. Red and white are symbolic colors used for greeting the New Year's Day, and are believed to bring good luck. You will enjoy watching the shape of the turtle slowly change during the cooking, soaking them with original soysauce at the end of the process and finally wrapping them with seaweed.
3. Experience Tea Roasting Workshop. The beverage for the Arare snack , you will enjoy the wonderful taste and aromas of Hojicha using tea roster ancestral method. High temperature is used to roast the leaves, altering the leaf color tints from green to reddish brown. This roasting process lowers the amount of caffeine in the tea. Fragrance and taste will slightly differ according to each participant's way of following the original process. One of the most unique experience for any tea lovers!
Activity Location
Kyomachiyasabousoozen
310-2 Nakainokumacho Teranouchi Dori, Kamigyo Ward
Kyoto, 602-8493
Meeting/Redemption Point
Kyomachiyasabousoozen
310-2 Nakainokumacho Teranouchi Dori, Kamigyo Ward
Kyoto, 602-8493
Highlights


1:Experience the process of making traditional rice cracker.

2:Experience the process of roasting the tea.
3:Enjoy with our original turtle shaped Arare.
4:Experience Kyoto real rural atmospere in traditioal house.
5:We also have Gluten-free and non-plastic tray product.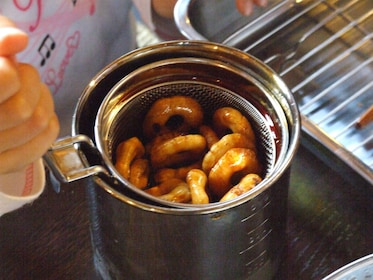 Inclusions
・Activity fee.
・Hojicha tea and sweet.
・Commmentary in English.
Exclusions
・Transportation.
・Lunch or other beverages.

Know Before You Book
Please follow our experienced master's instruction during the program. We might not be responsible for any accident caused by disregard for the instructions.
Minimum number of participant 2 person. (1 person will have the same price as 2 people)